My Review of DSC Nutrition Flavored Creatine Monohydrate
Creatine is a stalwart for anyone looking to pack on muscle and strength, the results from taking creatine speak for themselves…
http://www.rice.edu/~jenky/sports/creatine.html
We are trying a newcomer to the supplement market; DSC Nutrition who are based in the South of the UK. The company has only been trading for about 13 months at the time of press but boast a number of PhD qualified scientists in the biomedical research field who lead their product design team. DSC Nutrition also have an impressive range of products available considering their infancy in the market, seeing as I was looking for a creatine to keep at home I thought I would give them a go.
First look:
It seems the company is going with a black theme which extends to their website, it all looks pretty basic with very little design ethos. It certainly is not going to grab anyone's attention whilst browsing the shelf and looks a bit amateurish in all honesty which will be a barrier when people are looking for supplements – when we are looking for quality we tend to by with our eyes. I also noticed a spelling mistake on the packaging which doesn't bode well.
Ingredients:
Creatine monohydrate…with a few ingredients thrown in for the 'Berry Blast' flavoring. Therefore each 5g serving will be approximately 98% creatine monohydrate and 2% additional ingredients for the flavor. The product is sourced, processed and bottled in the UK which has to adhere to strict legislation to produce and sell supplements.
– Creatine Monohydrate
– Red beet extract E162
– Sucralose E955
– Soy lecithin
Dosage:
In contradiction to The Protein Works' creatine there is no suggestion of a cycle. Take 10g each day for ten days then 10g on training days and 5g on rest days.
Effects:
As long as you are working out with a good training plan with progressive poundages you (and others) will notice a lot of growth during the loading phase, much of the initial growth will be water as creatine pulls the water in to your muscle cells but this will gradually become much harder and stronger slabs of muscle and you will be able to lift more. Creatine is particularly useful if you partake in high intensity exercise.
Negatives:
There are very few negatives reported with creatine consumption, one person may find they do not agree with it but largely it is a safe and convenient way to get the extra required creatine your body needs. Being flavored there is an increase in price, however, I was not prepared for the approximate 50% increase. Therefore, 1kg is coming in at 25USD/16GBP/31AUS/21EUR which is a fair old hike and to be honest it doesn't taste any good at all, strangely it smells much better than it tastes.
The product is also manufactured in a plant that handles dairy, egg, soya, wheat and nut products which can rule a few unlucky buggers out.
My DSC Flavored Creatine Conclusion:
As with any pure creatine you are most definitely going to see results, however, this tastes horrendous which begs the question why wouldn't you buy the much cheaper unflavored creatine available? I buy soluble vitamin C tablets with added zinc and magnesium which are dissolved in a glass to which I then add 10g of unflavored creatine to slug back. This way is much more palatable, cheaper and with the added benefits of the vitamin C, Zinc and Magnesium…just take a look at our Natural Testosterone Booster Ingredients page and see how valuable Zinc and Magnesium are to stimulating testosterone production.
Score:
3/5
You can find out more about this product here
We Expose The Top 3 Testosterone Boosters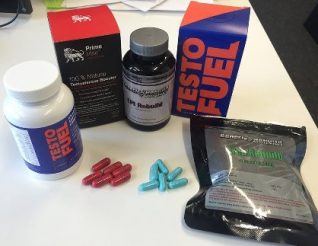 See The Top 3 Best Fat Burners
> Increase metabolism
> Increase Energy
> Designed for professional athletes
> Blend of natural 'cutting' ingredients
> Used by MMA fighters
READ: Read Which Fat Burners WORK
See The Top 3 Best Nootropics