My Review of The Protein Works Creatine Monohydrate
Creatine Monohydrate is probably the most common strength building supplement after protein and was probably the biggest breakthrough in weight training circles when it was first discovered.
Natural sources of creatine can be found in red meat and fish; however, it can be difficult to get the amounts your body needs to really pack on slabs of muscle. Creatine monohydrate is the synthetic form of creatine which you can take in much larger doses conveniently and cheaply.
It is an amino acid which increases your body's ability to produce energy rapidly; you will be able to train harder and faster, in turn your muscles develop – they will become bigger and stronger.
Let's take a look at the creatine offered by The Protein Works:
First look:
As with much from this brand, the packaging is clean and simple – it means business and nothing else, no marketing dirge, no BS. The ingredients are clear and it is a respected emerging brand from the United Kingdom with quite a following.
Ingredients:
Pure creatine monohydrate, it is the simplest form and most popular of creatine. It is an extremely fine powder that can be mixed in water for a high absorption rate.
Not entirely sure of the benefits..?
http://www.rice.edu/~jenky/sports/creatine.html
Dosage:
The packaging states 5g 1 – 2 times per day for 8 weeks and then stop for a week before returning to the cycle.
Effects:
You should start to see the effects pretty quickly, especially if you do a loading phase, much of the initial growth will be water as creatine pulls the water in to your muscle cells but this will gradually become much harder and stronger slabs of muscle. As it takes effect you will be able to push out a couple more reps or a couple more pound of weight on the barbell. One thing to note is that creatine is much more effective for high intensity exercise such as those heavy lifts and big rugby or American football hits. It is not quite as valuable for any sports that require endurance.
Negatives:
Creatine monohydrate is widely available from many different companies; it is all roughly the same cost give or take 1 – 2 dollars/pounds/euro. However, it would have been nice to see that delivery was free but it is not unless you spend more on other products which is a bit of a shame. However, at 17USD/10.99GBP/22AUS/16EUR for 1kg it is good value.
A few people report muscle cramps from taking creatine, however, largely it is a very safe and effective supplement for men and women.
My TPW Creatine Monohydrate Conclusion:
If you want quick gains in size and strength creatine monohydrate is a no brainer and should really be a staple to anyone's regime. The effectiveness to cost ratio is fantastic and such a great product from such a trusted brand is a win-win for me!
Score:
5/5
Discover this product here
We Expose The Top 3 Testosterone Boosters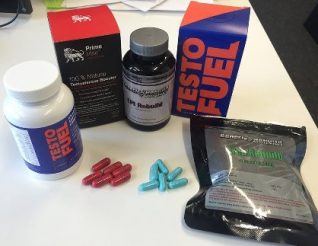 See The Top 3 Best Fat Burners
> Increase metabolism
> Increase Energy
> Designed for professional athletes
> Blend of natural 'cutting' ingredients
> Used by MMA fighters
READ: Read Which Fat Burners WORK
See The Top 3 Best Nootropics