Anabolic Accelerator Testosterone Booster Review
Anabolic Accelerator by Worldwide Nutrition Reviewed
First Look
There's many test boosters on the market and there's many audacious claims. There's also many product lacking scientific proof.
I am hoping that this test booster from Worldwide Nutrition called Anabolic Accelerator is as good as itys claims and as effective as it looks, because it almost looks like it borders on legality.
The label is dark, a bit scary and a bit like this could offer that scarce combination of being effective at raising testosterone and actually being legal to by and use.
Product Claims
This anabolic accelerator from Worldwide Nutrition has many, many varied claims.
So much so that I hardly have enough memory to list it all, but here they all are:
Increased lean muscle mass
More protein synthesis
Nitrogen retention
Less stress (cortisol)
Vascularity
Improved metabolism
Better muscle recovery
Anabolic Accelerator Pro Price
$34.99 – Quite cost effective.
Supplement Dose
There's a three pill per day serving.
The serving suggestion of three pills per day is good.
However, the daily dose of just over 60mg per day is horrendous.
This is because there is only effectively one ingredient.
The bioperine is just helping the Laxosterone absorption rate.
Ingredients: The Research
– 5 alpha Hydroxy Laxogenin
This was discovered back in 1996.
Supposedly it has the benefits of anavar (mild anabolic steroid) yet without any of the toxicty risks.
However, studies are lacking, particularly studies on humans.
All there that is available is an old Russian study, but this wasn't on humans either, it was on rats.
That seemed positive, but ask yourself this…
If it is so effective and so safe why is this not marketed more?
Why does hardly anyone know of 5 alpha Hydroxy Laxogenin?
And, why doesn't it work? Because it does not work. I've tried it. [1]
– BioPerine/Piper Nigrum
Bioperine has nothing to do with stimulating testosterone or improving any health parameters at all really.
However, its strength lays in the fact that it can help improve the absorption of the other nutrients.
Therefore helping prevent waste and increase the amounts your body can utilize.
This should then translate to the product being more effective and beneficial. [2]
Ingredients Summary
There's nothing here of any real benefit.
Bioperine helps the body absorb more of the Laxosterone, but the latter does not do anything of any benefit anyway.
I've tried it and it doesn't work, and there's no human studies proving it work, either.
Pros & Cons
Pros
Cons
Lack of additional proven ingredients
Low daily dose
Lack of studies to prove 5 alpha Hydroxy Laxogenin is effective
Video Review
Review Conclusion
This testosterone booster from Worldwide Nutrition just does not stack up.
There's only one ingredient included that could potentially have a positive effect on test levels, but that has no scientific proof available to back up the long list of claims.
This is just not going to work, no matter how great the theory behind the ingredients sounds.
Take a look at the best legal and safe test boosters on the market.
---
References
[1] https://www.ncbi.nlm.nih.gov/pmc/articles/PMC3177571/
[2] http://www.ncbi.nlm.nih.gov/pubmed/9619120
Our Favorite Test Boosters
> Increase Natural Testosterone Production
> Build Slabs Of Muscle
> More Energy
> Increase Strength
> Improve Overall Well Being
CLICK HERE TO READ MORE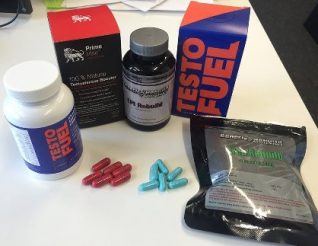 Ben established this site to be a free resource in 2015. Since then it has gained over half a million visits. It explores the many avenues of fitness and uses supporting scientific evidence for any reviews or analysis of products.
Ben himself has been interested in fitness from an early age. He started playing rugby at the age of 6 for his town, county and school where he gained his full colors while also being in the Army Cadets. After graduating from university in 2005 with a BA(Hons) Ben moved to London and nurtured his love for weightlifting to support his rugby, he also became heavily involved with cycling. Ben also started skiing and recently joined the Army Reserve to further develop his capabilities.